Corvin Hotel*** Ínyenc Étterem és Borklub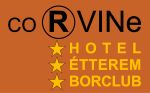 5700 Gyula,
Jókai utca 9-11.
Welcome in the historic spa city of Gyula. Our historic traditions, intellectual and built heritage radiate calmness and beauty. It is the best place for relaxation or a nice holiday.
The Hotel Corvin is the only hotel situated in the historic town centre. It has 22 rooms, 4 apartments. The Hotel has a guarded private parking.

The hotel is popular with Hungarian and foreign tourists due to the familiar atmosphere.

The Hotel Corvin is situated in one of the most beautiful streets in Gyula only 10 minutes walk from the famous Gyula Castle Bath and wellness centre.

SERVICES
Secure private parking, air-conditioned rooms, telephone/fax, refrigerated mini bar in rooms, satellite TV, safe at reception, gun cabinets in rooms are available for hunting parties, dog kennels, credit card is acceptable.

CORVIN GOURMET RESTAURANT
With excellent food, fine Hungarian wines and a friendly atmosphere we would like to think that this is the best restaurant and hotel in the region.
Poetry and gastronomy are in one! Favorite foods can be found hidden in the poetry of pictures within the menu. All can be served with the best Hungarian wines.

CORVIN JAZZ GARDEN
Taste the delicious specialities from the outdoor grill in a Mediterranean atmosphere, surrounded with palm trees and lit by torch light in the evenings.

CORVIN BORPATIKA (WINERY)
Taste the best wines from the greatest vineyards and popular wine regions. Approximately 160 kinds of wine are available at a surprisingly reasonable price.
Wine tasting and displays together with wine tasting courses are also available here.
Sales and prices
Double room for 1 person 12.900,- Ft (54 €)
Double room for 2 people 15.900,- Ft (67 €)
Room for 3 adults 19.900,- Ft (83 €)
Room for 2 adults and 1 child 17.900,- Ft (75 €)
Room for 2 adults and 2 children 19.900,- Ft (83 €)
The room price includes the breakfast and VAT.
Discounts:
For children from 2 to 14 years old.
For children under 2 all supply is free.
Parking: free
Extra prices:
Tourism tax: 380,- Ft (1,5 €) / person / night
Dog and cat: 2.000,- Ft (8 €) / night
You can find dicount package prices on our website: www.corvin-hotel.hu