Nagycenk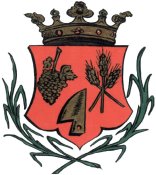 History of Nagycenk
The home site of the Greatest Hungarian (a title given by Lajos Kossuth) is situated merely 12 kilometres from Sopron, where the roads 84 and 85 meet. It can also be approached by railway on the Sopron-Szombathely line. The nearest Austrian-Hungarian border station is only 5 kilometres away.
The village became the home and territorial center of the Széchenyi family in 1741. The mansion was rebuilt by István Széchenyi's father at the turn of the 18-19th centuries. The wrought iron balcony above the main entrance and the eastern wing of the mansion were built at this time. The balcony is supported by four Tuscan columns. The western wing was built later, between 1834 and 1840. The facade above the main entrance is decorated with a relief and the crest of the Széchenyi family.
The Széchenyi Castle hosts the István Széchenyi Historical Museum, which is the largest museum devoted to one historical figure in the country. In the castle park you can find several tree-curiosities brought in from far-away countries of the world, as well as 20-25 interesting bird species.
In front of the main gate of the caste there is a beautiful lime-tree alley of 2.6 kilometers long, where you can walk all the way to the shrine of Béla Széchenyi (István\'s son) and his wife Erdödy Hanna. The mentioned natural and architectural treasures became part of the World Heritage on May 18th, 2003.
It\'s in the middle of the village, on the Széchenyi square where the threespan romanesque church stands, the Saint Istvan Church (named after King István). Széchenyi hired the famous Miklós Ybl to carry out the planning and building of the church while he was in the Döbling institute in Vienna. Unfortunately, because of his death, he never got to see the plans nor the church. In the middle of the square in front of the church stands the Széchenyi Statue by the famous Alajos Stróbl sculptor artist. Just a few meters from here, in the mausoleum in the graveyard of the village, where the Greatest Hungarian rests in peace together with several members of the family. In addition to this, at the square named after him, you can find many 17th and 18th century statues, the millenium park, and the Fidelity - fountain.
When visiting with children, you should not miss the miniature train running on a 3.6 kilometres long path, operated by child railroaders. At the departing station of the railway, there is an interesting open-air railway exhibit, where children and parents can climb onto old steam-locomotives built in the first half of the 20th century, exhibited by the Transportation Museum.
The Nagycenk Art Festival and the Nagycenk Harvest Festival are organized always on the same dates of the year, August 1-10 and the penult weekend of September respectively.
Source: www.nagycenk.hu