Wine Cellar Kleman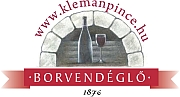 2461 Tárnok,
Pannónia utca 4601
"I can confidently say that Hungarian wine culture cannot be known through a bottle of wine bought in a hypermarket," Márton Cseh, wine expert, sommelier, and manager of Kleman cellar claims. "The Hungarian wine tradition is not about producing millions of bottles each year, with wines of trendy tastes. Its essence can be found, rather, in the variety and high quality wines we produce. "In order to truly understand the wine culture of a country, a visitor should also gain some knowledge about the traditions, foods, arts and legends in connection with wine. Exploring Hungarian wine culture can also be a great tool for discovering the individual values of each wine region.
"If you spend some time with the locals, taste their foods, get to know their customs and explore their lands, you are on the right path to understanding - and perhaps, loving - Hungarian wines, the places and the people who produce them," Cseh says.
From our wine tasting selection
In the more than 130-year-old Kleman wine cellar guests are introduced to a variety of quality wines from around Hungary through a light-hearted wine tasting session. While tasting our wines, guests will enjoy an exciting presentation by a qualified sommelier, the youngest member of the Hungarian Sommelier Association (Member of ASI).
Tasting sessions offered
Hungaricum
In our Hungaricum tasting traditional Hungarian grape varieties and wines are presented.
Topics of the tasting session:
Something to be proud of: THE HUNGARIAN WINE. A brief introduction to indigenous grape varieties.
The international success of Hungarian wines formerly and today.
Hungarian wine growers and wine makers of distinction, respected around the world
Points of interest in the history of wine, legends about Hungarian wine.
The future of Hungaricums on the international and domestic market.
"Wine wandering"
In our "Wine wandering" tasting session guests are lead through an introduction to Hungary's most peculiar wine regions. There is no need to travel several hours to get to know a wine region any more. This session in our cellar looks at the distinguishing features of our wine regions in detail and gives you the opportunity to learn about their characteristic grape varieties and to sample their wines.
Sales and prices
WINE WANDERING AROUND HUNGARY
Topics of the tasting session:
What makes Hungarian wine regions unique? (geographical endowments, grapes, traditions)
The heritage of different nations in some of our wine regions: what have they left to us? What have we inherited from them? (Romans, Swabians, the Raci, etc.)
From Sopron to Tokaj, from Etyek to Villány - you can find out anything you wish!
Revered French wine regions versus Hungarian areas!
International varieties
Cultivated in most wine regions and well-known around the world: the INTERNATIONAL VARIETIES! How do the most famous grape varieties perform in Hungarian wine regions? This is the question we aim to answer in our International varieties tasting session.
An introduction to international varieties (chardonnay, cabernet, pinot noir, etc.)
Globalizing wine growing? What is ABC? The international varieties with the eye of Hungary.
What makes the home-grown better? International varieties vs. Hungaricums.
Examining, analyzing and discussing the MOST WELL-KNOWN GRAPES IN THE WORLD!
Villányi wine
Villány-Siklós is the most popular wine region in our country. Its impressive development is due not only to its incomparable geographical endowments but also to the mentality and knowledge of the people living there. Our guests are introduced to the wine region also known as the "Hungarian Mediterranean" through an interesting presentation and wine tasting.
From the soil to the wines: presenting Villányi wine region
About the most interesting vineyard fields: Jammertal, Kopár, Ördögárok
Presenting wine maker families, from father to son
Ripe, full-bodied wines - from old and new wine makers
Red Devils
Presenting only red wines, this tasting is primarily recommended for men! The session is also perfect for those enjoying challenges, having a desire for the new, and in search of adventures. You will have a devilishly good time!
The characteristics of producing red wine, the role of ageing wine in barrels, the principles of good blending.
The harmony of wines and meals, guidelines on choosing the right drink.
A devilishly good range of wines! A selection of the most exciting red wines of recent years.
What you can take for certain: deep hues, dazzling flavours, plenty of body, intensity and elegance!
Tokaji wine
Wines of outstanding vintages with a unique quality, from our wine region declared a world heritage site.
The multi-faceted wine region: a fascinating harmony of superior sweet wines, dry wines, wine specialities and aszú wines.
All you need to know about Tokaj!
The "wine of kings" on the international market
Once the kiss of Tokaj has touched you...
What makes the wine tasting sessions at Kleman wine cellar different? What makes a wine tasting event entertaining?
Wine tasting sessions at Kleman wine cellar are completed by the following entertainment programmes:
Hungarian wines language lesson - the names of Hungarian grapes are barely comprehensible to a foreign guest. In our wine cellar our grapes with strange names are introduced in an amusing way.
Gourd my wine! - anyone can use a sampling tube! Can you do it even if the wine is not in a barrel?
Who Wants To Be A Sommelier? - An opportunity to show how much you know about wines! Presenting a wine certainly cannot get on top of you! But what is in the wine glass?
Human characters and wines - a visual meditation on the human characteristics of wine
Interested in the details? You are welcome to visit us and have a great time at Kleman wine cellar!