Castle Hedervary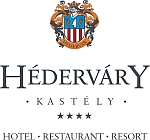 9178 Hédervár,
Fő utca 47
Castle Hotel Hedervar is located between Györ and Mosonmagyarovar, only 85 km from Vienna, 60 km from Bratisava and 160 km from Budapest. The castle hotel offers a renaissance atmosphere where you can spend unforgettable days. The four-star castle hotel can be easily reached from Vienna, Bratislava and from Budapest on the M1 motorway. From the motorway you have to take Exit 142 (Lébény).
The elegant rooms (14) and the nobly furnished suites (4), the old wooded parkland, the hunter room dated from the 19th century, the salon "Sala Terrena" decorated with baroque frescos and the Héderváry family's original baroque chapel make the castle hotel the perfect base to explore its enchanting surrounding.
All rooms are equipped with bath tub and/or shower, with telephone, top class CD/radio (Bose), large TV (Loewe), safe and upon request with Internet-access and a free DVD (Pioneer) player.
Hedervar Castle Hotel welcomes its guests. Our guests can really feel that time has stopped. The renaissance and baroque architectural monuments or the beautiful Zsolnay tile stoves amaze our guests. The English garden is decorated with centuries-old trees.
The castle hotel is also a perfect place to organize conferences. The participants can choose from the oldest conference rooms of the country: the Hunter Room (for 34 - 90 persons) with Empire stove and chandelier, the renaissance bibliotheque (for 50 - 80 persons), the conference room with up-to-date technical equipment (for 34 - 90 persons) and the Sala Terrena (for 10 - 15 persons). The Hunter Room is a specifically popular place for weddings. The castle's ancient vaulted cellar offers a great ambience for special programs. After dinner the men can retire with a good cigar to the cigar room or to the former arms room.
The cuisine of the castle is worth mentioning, too. The polite and attentive waiters make our guests feel really like a count. The elegant restaurant of the hotel offers a wide range of delicacies.
It is also the castle of culture: on every second Friday our guests can enjoy classical music concerts or folk- and jazz music performances.
Programs: wine tasting with folklore program, excursions on horse-carriage or horse-sleigh rides.
Sales and prices
Room

number

1 Person Euro / Night

2 Persons Euro / Night

3 Persons Euro / Night

4 Persons Euro / Night

Room

Mihály Room

01

97,00

137,00

-

-

2 x 1 Bed, Bath-tube

Herend Suite

10

161,00

217,00

249,00

281,00

2 x Doublebed, Bath-tube

Lipót Suite

11

141,00

197,00

-

-

French Bed, Bath-tube

Kàroly Gróf Room

12

97,00

137,00

-

-

Doublebed, Douche

Khuen-Hédervàry Room

13

117,00

157,00

189,00

221,00

Doublebed, Sofa, Douche

Boldogasszony Room

14

117,00

157,00

189,00

221,00

Doublebed, Sofa, Douche

Ráró Room

15

97,00

137,00

-

-

Doublebed, Bath-tube

Győr Room

16

97,00

137,00

-

-

Doublebed, Bath-tube

Moson tower Suite

20

141,00

197,00

229,00

261,00

Doublebed, Sofa, Bath-tube

Darnó Room

21

97,00

137,00

-

-

Doublebed, Douche

Pozsony Room

22

97,00

137,00

-

-

Doublebed, Douche

Suite of the Count

23

181,00

257,00

289,00

321,00

French Bed, Doublebed, Bath-tube

Rákóczy Room

24

97,00

137,00

-

-

Doublebed, Bath-tube

Viczay-Héderváry Room

25

117,00

157,00

189,00

221,00

Doublebed, Sofa, Bath-tube

A Grófkisasszonyé

26

97,00

137,00

-

-

Doublebed, Bath-tube

Katalin Room

27

97,00

137,00

-

-

Doublebed, Bath-tube

István Room

28

97,00

137,00

-

-

Doublebed, Bath-tube

János Room

29

97,00

137,00

-

-

Doublebed, Bath-tube